Travel and Accommodation: Infest
Infest 2017 will be held at the University of Bradford Union, United Kingdom. Here are few tips and notes you might want to keep before reaching the festival grounds.
Travel:
By Air: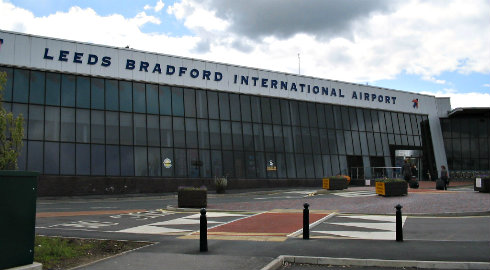 If planning to attend the festival from overseas locations in that case the closest airport is Leeds Bradford International Airport, You can easily find local connection which will lead you to the festival site.
In case you planning to attend from other domestic or nearby locations The nearest airport is Manchester Airport, then take a train to Bradford.
By Train:
If coming by train, you need to get to Bradford Interchange OR Bradford Forster Square. Both stations have taxi ranks.
Buy tickets on the Northern Rail website.
Get more train time information on the National Rail Enquiries website.
By CAR:
The venue is located on Longside Lane, and is part of the main University of Bradford campus. Click here for a map.
The official address of the University is:
University of Bradford, Bradford, West Yorkshire, BD7 1DP, UK.
For Sat Nav purposes, try BD7 1SA or BD7 1SR.
Parking notes: If entering Longside Lane from Richmond Road end, you should take the first LEFT to be as close as possible to the HALLS. If entering Longside Lane from Shearbridge Road you should take first RIGHT into the top parking area, to be closest to the VENUE.
Shuttle Services:
The Festival arrangement has provided no shuttle services as the festival location is easy to access via personal or public modes of transit.
Accommodation:
The festival is a purely indoor event and as per the design of the vibes, camping is not an accommodation feature in the festival. However, there are plenty of rooms for a university style lodging available which can be acquired by contacting the university staff as  m.m.ryan@bradford.ac.uk.
Besides that, there are plenty of hotels and hostels located nearby. Check out a few:
0.84 km from the festival site
£ 93.24 average per night for 2 people
Has a bar, a restaurant, a coffee bar,
and free Wi-Fi in all areas.
The main shopping district, including The Bullring shopping centre, is less than a kilometer away.
The spacious rooms feature crisp white linens, flat-screen TV, tea/coffee facilities, iron and ironing board, air conditioning,
The bathrooms have a power shower and spa toiletries
0.9 km from the festival site
£ 53.54 average price for 2 people per night
Guests can enjoy free Wi-Fi and free parking.
Great Victoria has 2 restaurants: the Corniche Restaurant Bar and Grill and the R Bar
 a flat-screen TV and a 2-line telephone included.
The bathrooms have bespoke toiletries.
The bathrooms have bespoke toiletries.
Guests at the Great Victoria also have free use of an on-site gym
0.4 km from the festival site
£ 50.00 average price per night for 2 people
 free Wi-Fi and free private parking.
 just a 3-minute walk from the University of Bradford,
 the city's shops, bars, theatres and clubs are just 10 minutes' walk away.
Holiday Inn Express Bradford City Centre :
1.2 km from the festival site
£ 50.00 average price for 2 people per night
A hot breakfast buffet is served in the Great Room every morning and also a 24-hour pizza menu is available.
This property is 16.1 km from Leeds Bradford International Airport and 19.3 km from Leeds city centre.
The main bus and rail stations are a short walk away
2.1 km from the festival site
£ 30.00 average price per night for 2 people
With free WiFi and easy access to the M62 motorway on the A650,
the property is also just 19.3 km from Leeds Bradford International Airport and 15 minutes' walk from the Bradford Forster Square Railway Station.
The contemporary and air-conditioned rooms offer a flat-screen TV and an en suite shower room.
A coffee machine and microwave are provided in the public area.
Ibis provides a Lite Breakfast consisting of a muffin, hot drink, cereal bar, orange juice and fruit all for an additional price