Discovery: Decibel Outdoor
In the coming of age timeline for music festivals, Netherlands have proved quite a stand out in creating some of the best music festivals across the globe. In the spirit and styles of Dominator Festival comes another hardstyle techno dance event that goes by the name of Decibel Outdoor. It is yet another single day dance event where the energy levels will be reaching some high magnitudes.
Decibel Outdoor is one of Netherlands most beloved festivals in terms of the fact that it invests heavily on local and domestic techno artists to communicate the Dutch flavour of EDM in music festivals. In the decade old history of the festival, Decibel Outdoor doesn't sell its tickets on the strength of the solo headliner and has still managed to attract almost 30000 revellers as of yet.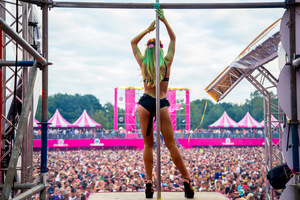 The festival is primarily a single day event and the additional weekend prior to the main event serves as an energy build for the visitors who might want to charge up in the festival ground itself by not wasting time and energy in travelling while on the main day. Because the main event comprises of roughly 15 stages scattered in 5 different zones which are impossible to cover in one single day. So it is advised you pick your favourite artists from the lineup and plan out your stages and know where and when to be when the festival kicks off.
When it comes to stage effects, its assured Decibel Outdoor will leave no stone unturned when it comes to light effects and fireworks. The party although starts out in bright sunlight itself and looks equally mesmerizing as it would do after the sunset. On top of that if you are sick of the usual Ferris wheel in music festivals then don't worry Dominator Festival will have some different rides bound to get your heads spinning till you land back on the dance floor.
So while in Netherlands in August, try making a trip to Hilvarenbeek where a stage is waiting to explode in music and dance.